---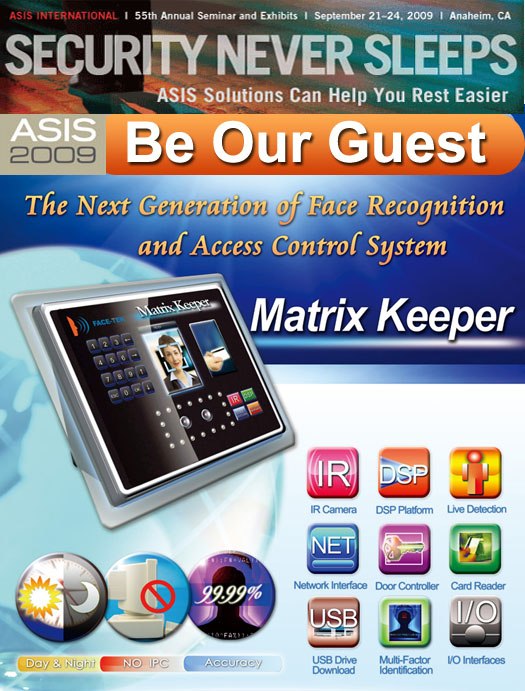 ---
Face-Tek Matrix Keeper
The Next Generation of Face Recognition
and Access Control System
ASIS International 2009
Date & Time: at 9:00am – 4:30pm, Sept. 21-23, 2009
Place : Anaheim ,CA, U.S.A
Booth : Face-Tek # 1259 (Expocad)
---
Discover what's next in security at ASIS 2009. From cutting-edge solutions to integrated tools designed to improve efficiency, ASIS 2009 is your best one-stop opportunity to see, test, and compare everything you need to meet your security challenges in the coming year.

Attending ASIS 2009 is a smart choice. In fact, 54% of last year's attendees said they don't attend any other industry show. They know the value of attending the security industry's leading event.

Some 850 exhibiting companies will showcase the most innovative technologies, products, and services on the market today. From access control to weapons detection and everything in between, ASIS Exhibits has it all!

Face-Tek Technology will announce the Matrix Keeper Face Recognition access control system. The first facial recognition product could circumvent the environmental lighting effect. It is the successor of the Face-Tek Reader, a winner of Best Choice Award for Computex 2008 Security Products and its new version of Face-Tek Gate Keeper Access Control System. We will be in ASIS International 2009, Booth : # 1259.

With its advanced face recognition technology, Face-Tek Technology is continuously developing cutting-edge Identification and Verification Systems. The Matrix keeper is the next generation of the facial recognition access control system with dual camera and patented matrixes infra-red illuminating system. That could let the matrix keeper could work in the day and night. This makes the matrix keeper the first product to achieve truly 24 hours operation. The matrix keeper use the DSP embedded platform to replace the IPC platform. It is greatly reduced the size, power and price. That is greatly increasing the competiveness of the FR access control system among other biometric technology.

The access identification system appeals to those who enjoy the convenience in gaining access to buildings. With the system in place, they only need to look briefly into the cameras of Face-Tek matrix keeper, once authenticated, the door opens. It is the most intuitive and friendly identification technology available now. According to our investigation, most people prefer to use the facial recognition system better than other biometric methods.
---