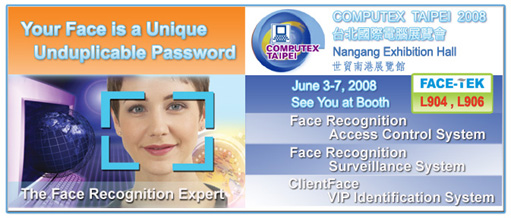 ---

COMPUTEX TAIPEI 2008
3 - 7 June , 2008
Nangang Exhibition Hall
Booth No. : L904,L906
http://www.computex.biz/computex/EN/main.asp
---

With just a face,

you can access the world

 

Face-Tek Technology will showcase Face-Tek Reader, a winner of Best Choice Award for Computex 2008 Security Products and its new version of Face-Tek Identification and Verification Access Control System in Computex Taipei 27th, 2008, Nangang Exhibition Hall, Booth L904, L906. In this event, Notiface II Face Recognition Surveillance system that identifies undesirables and VIPs will also be introduced.


 

 

With its advanced face recognition technology, Face-Tek Technology has developed Identification and Verification Access Control Systems, enabling both physical and logical control such as computer login.

 

The identification system appeals to those who enjoy the convenience in gaining access to buildings. With the system in place, they only need to look briefly into the cameras of Face-Tek Reader, once authenticated, the door opens. The verification system on the other hand, adds another layer of verification for those who already have a card or password system in place, thus upgrading the security."

With its capability to identify undesirables and VIPs, Notiface II not only assists to boost the level of security but also further enhances customer service quality.

As a surveillance system, Notiface II is suitable to screen for blacklisted people in public areas such as airports, stadiums and casinos. "Face-recognition systems have helped casinos spot known card counters and other unwelcomed gamblers", said Walter Hamilton, chairman of the International Biometric Industry Association.

In hospitality industry, Notiface II identifies VIPs that walk into the venue; displaying the matched face image, name and other important profile info to customer service staff, therefore they can instantly greet the VIPs by their names. This boosts the perception of good customer service.

Utilizing face biometrics for automatic identification, Notiface II detects faces of people that appear in the surveillance area. As face images are detected, Notiface II automatically captures and records those face images in a speed of up to 12 images per second. Notiface II then compares all those captured images with the face images or templates pre-enrolled in the database. Matches found are instantly displayed to alert operators.

 

 

About Face-Tek Technology
Face-Tek Technology is headquartered in Taipei, Taiwan with offices in Australia and China. It develops and markets its well-known face recognition solutions worldwide. Distributor list has been growing from year to year, ranging from South Africa, Middle East, UK, US, Australia, Thailand and Philippines. Since 1994, Face-Tek R&D center has continuously improved the face recognition core technology and developed further application software. Testing in various sites has proven the performance of Face-Tek systems as reliable biometrics systems.
---